My favorite part of our honeymoon was when I acquired what one may call explosive diarrhea.
It was six in the AM. I woke up suddenly as my butthole told me "Rise and Shine. It's game time." We were in the beautiful snowy world of Aspen, Colorado, it was our third day being married, and I almost pooped on my new husband.
(But didn't…yet… I'll save that one for a later date)
He woke up to the sweet symphony my anus was playing as I hung my head, disappointed to be ruining our day because I belong at weenie hut juniors.
I was just so……
so…
LOVESICK.
HA!
Get it?
Back to the story. While I was stuck on the toilet all morning, Allen did not get irritated with me for dropping a bomb (hehe) on our plans. He took care of me. He walked clean across town to find some Emergen-C because everywhere else was sold out. (Apparently there were lots of toilets getting destroyed) He came back to the hotel and gave me that horrible tasting juice… because apparently we can make self driving cars but all medicine will forever taste terrible. Not once did he complain. We just laid in bed watching movies until the flood gates closed and I could move around the next day.
Then we went on a hike the next morning and got lost so I almost had to take a dump in the snow. But that's beside the point.
The deeper, Godly love he had shown me through his actions would extend on even after the honeymoon was over, and would continue on after the honeymoon "phase" was through.
Have you ever heard of the honeymoon phase?
Basically, you see it all over the place when instagrammers are posting ten selfies a day with their significant other like "SO IN LOVE #togetherforever #heissohandsome #wearegoingtogetmarriedandmaketonsofbabies " and there is NOTHING wrong with that. That phase is enjoyable and great. The problem comes when it fades away because of what it is- a phase.
You see it in tons of romantic movies. The person "falls in love" with someone who seems new and fun. "Look at Jerry he has a motorcycle and a man bun and plays me Sarah Bareilles as I fall asleep at night. I just FEEL like I love him so much" Jerry and Susan have a fallout. Jerry plans a giant flash mob and they feel better. Then they get married THE END.
On a side-note: if anyone ever decides to make a flash mob PLEASE INVITE ME. Its a bucket-list item of mine.
We have a tendency to jump from relationship to relationship as the "spark" fades and we want to feel the excitement and newness of someone else. It is what the culture tells us to do. We base everything off of the saying "follow your heart", letting our feelings guide us- causing us to look out for the wrong things and place expectations on others we should never expect them to fulfill.
Guys. The Heart is Fickle. As Pricilla Shirer said in her "Armor of God study" (I encourage you to look into it)- Feelings do not have intellect.
The heart and feelings will lead you Astray. The heart is deceitful (Jer. 17:9). As soon as feelings fade you will turn to another person, then another, never finding a spark that will last forever. The enemy uses his deceit within the culture to make us think infatuation is love.
"And no wonder, for Satan himself masquerades as an angel of light"- 2 Corinthians 11:14
So this sucks. Basically butterflies fade and I'm stuck with a gassy, smelly, real person. There is no Prince Charming… or Princess Charming? Is that a thing? It is now.
I'm doomed to walk the Earth in an unsatisfied relationship, or alone forever. #7catsandcounting
Not quite. Plus… butterflies are creepy up close anyway.
When the infatuation fades, you see the real person behind the blinds… And remember, they see you too… In all of your glory- your random chin hairs (women) or lack there of when you grow a patchy beard (men), your stinky armpits (women and men), when you get hangry (mostly women), when you forget to cut your toenails and stab the other person with them (Allen), when you cry because you don't want to move to get a beefy five layer burrito… but you want a beefy five layer burrito (Brittany)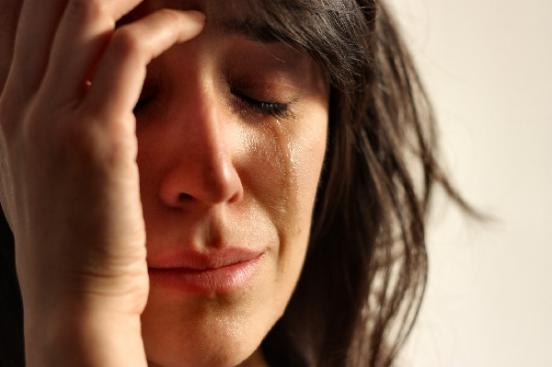 Allen and I have known each other for 12 years now. That is LITERALLY half of my life. Our Honeymoon Phase, for me,  lasted until the 2nd year of marriage. What can I say? He is a fine piece of booty. But when he walks into the same room as me at least 5 times a day, how can my stomach physically feel butterflies every time? He comes in and poops right when I try to take a bath. Every time. Without fail. How does his body know I am bathing?
After ten or so years of feeling "excitement", it was fading.
What was my initial reaction? Follow my heart of course! All the romantic comedies I had watched were coming to fruition as I wanted to be like Susan, and find the "right" person for me. The person that gave me that "spark".
I want to clarify I am not saying "Stay in your horrible relationship with the dude you've been dating because you need to stop being so nit-picky you piece of garbage". It is important to be equally yolked. (2 Corinthians 6:14) Sometimes we even get "almost right" mixed up for "right" when it comes to dating. Someone can be a "great person" and still not be equally yolked. Dating is a whole different ballgame than marriage.
But in both areas, the enemy uses the culture against us my friends. He uses our feelings and our heart to manipulate and twist the real truth: disguising himself as an angel of light. 
The thief comes only to steal and kill and destroy; I have come that they may have life, and have it to the full"- John 10:10
What stems from this full life? A biblical love a million times stronger than any sort of shallow infatuation could bring. A deeper, lasting love- more fulfilling than the fake kind our the enemy uses our heart to lead us to. Boy o' boy am I sure glad I learned not to love like movie Susan.
"Give thanks to the God of heaven, for his steadfast love endures forever"- Psalm 136:26
I challenge you to strive for biblical love in friendships, relationships, with family, and in every day life: love like the kind our savior brings us.
And just FYI, this Godly love feels a lot better in your tummy than a bunch of weird bugs flying around. Seriously. Stare at a butterfly up close for like five minutes. They are weird looking. I don't like it. They are suspicious.
God's love is like a good solid poop. It takes work, a balanced spiritual diet, and is more fulfilling than a quick squirt of infatuation. Just like diarrhea- being "lovesick" fades after a short period of time. If the diarrhea doesn't fade, you should probably see a doctor.
We are human. We aren't always going to "feel" in love at every moment. It is OK. That doesn't mean we should stop actively loving someone. Pray with each other. Pray for each other. Communicate. Listen to one another. Care for one another. AND MOST IMPORTANTLY:  Be kind to each other even when you are hangry.
God given gifts shine brighter than any we create ourselves. God's love shines brighter than man's emotions.
One thing that really helped me through the infatuation transition was learning Allen's love language- and focusing on actively loving him. It is a great quiz and helps you understand everyone better. Not only your spouse- friends and family too! Or you can hardcore commit and read the whole book by Gary Chapman. It's pretty solid.
P.S. Allen is still bootylicious… and I love his face more than any other human on this planet. (Sorry Adam Sandler)